Following a boost of virtually £9m via mainly central government funding, with additions from Portsmouth City Council, the planning approval for the new base for Sir Ben Ainslie's Americas Cup Challenge is to be sited on the old camber dock site at Portsmouth.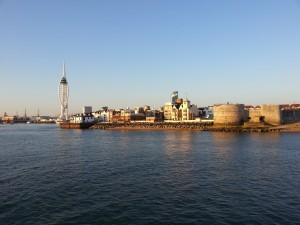 At the beginning of June, Sir Ben launched an £80m bid to win the Americas Cup. Announcing matters on 10th June in various mainstream media and other locations, Sir Ben and his team are organising and coordinating a British challenge for the 163 year old trophy which has never actually been won by Great Britain – despite our rich sailing history.
The announcement, which was made at the Royal Museum at Greenwich, has enabled matters to be considered by Portsmouth City Council and construction work is now underway with completion scheduled for May 2015.
The four times Olympic gold medallist who hails from Restronguet in South Truro in Cornwall, but who effectively is based all over the world, wherever his racing takes him, has stated:
"Portsmouth has a great maritime heritage and we felt it was a natural home for the team's permanent base in the UK. There is excellent access to the water for the team's training and to host future Americas Cup event with fantastic spectator view points."
The Prime Minister added:
"This is an exciting historic challenge and I hope the whole country can get behind Sir Ben's campaign".
The headquarters will initially employ about 90 people with more potential jobs in the supply chain. The Portsmouth centre will become the base of the team which will include areas for the design, construction, development and maintenance of the team's boats. There will be some sport science and fitness facilities and indications are that the visitor centre will welcome school and community groups.
LCB / SRJ                                                                                                                              01.08.14