It has been almost 2,000 years since the largest Roman amphitheater in the world was completed by the emperor Titus, yet until now, it has never been cleaned.
The landmark which reputedly saw over 800,000 people die within its walls was famed for its use as an arena for gladiator fights, wild animal hunts and public executions. Now, it is to undergo a painstaking restoration, which will see a team of technicians armed with toothbrushes attack narrow cracks and fissures to remove centuries worth of grime.
However, toothbrushes will not be the only weapon of choice, with larger brushes being used to scrub the giant blocks that form the walls of the monument; reaching 160ft in places. A system of tubes and nozzles will also be used by technicians to spray mist onto the stone to soften up dirt.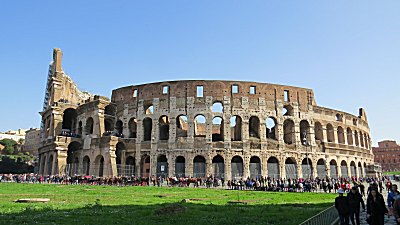 The process of removing the algae and black crust from the once beautifully creamy travertine stone will leave behind a pinkish patina, a form of oxidisation which will protect the structure against urban pollution.
The Director of The Colosseum, Rossella Rea, likes to use an interesting analogy when referring to the monstrous building, saying:
"The Colosseum is like an old person with lines and wrinkles. We don't want to do a facelift, just a cleaning. It is important to retain the marks of the past"

The restoration is being sponsored by high-end Italian shoe company Tod's, but the company's Director of communication explained that the process of having their offer accepted by the City of Rome was anything but plain sailing, after plans became muddled with bureaucracy.
"Since we started discussing the project three years ago, we have had to deal with five different cultural heritage ministers"
It is hoped that when the operation is complete in October 2016, the process will not have to happen again for at least another 200 years and, if the Mayor of Rome Ignazio Marino keeps his promise to remove traffic from the avenue surrounding the Colosseum, this well may be the case.
Let us hope, for the technicians armed with tiny toothbrushes sake, that the Mayor sticks to his word, else they may find themselves scrubbing away once again a lot sooner.
LCB / SRJ Â  Â  Â  Â  Â  Â  Â  Â  Â  Â  Â  Â  Â  Â  Â  Â  Â  Â  Â  Â  Â  Â  Â  Â  Â  Â  Â  Â  Â  Â  Â  Â  Â  Â  Â  Â  Â  Â  Â  Â  Â  Â  Â  Â  Â  Â  Â  Â  Â  Â  Â  Â  Â  Â  Â  Â  Â  Â  Â  Â  Â  Â  Â 01.06.14