A property developer in London is offering the chance for potential property purchasers to buy a flat in London and get with it, a multi-room lodge near Newquay in Cornwall. This opportunity is perhaps ideal for a hard worker in the City who is fond of the occasional dabble in the sea. 
A purchase price of £324,950, which is £50,000 less than the average price of a London home, is what they are asking for to obtain a brand new one bedroom flat in Lewisham along with a choice of brand new apartment that range from 360sq ft to 506sq ft in size, overlooking Fistral Beach.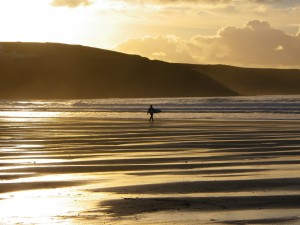 The development near Newquay will feature around 100 glass fronted apartments on a site dubbed 'Pebble Beach Village', which will include a large artificial wave machine, swimming pool, spa, health club, golf course, tennis courts and restaurant. 
The offer, being advertised by London developers Galliard Homes under the slogan Surf and Turf may seem like the ultimate buy one get one free offer but is actually broken down into £225,000 for the Lewisham flat and £99,950 for the surfing suite.
Sales Director at Galliard Homes, David Galman said:
'Some of our metropolitan buyers love surfing, sailing, swimming, water sports and the outdoors, and it is something they miss living in London.'
'This is why we have launched our surf and turf offer, which for as little as £324,950 enables them to buy two homes in one deal and have a London home and a surfer's suite at our Pebble Beach village.'
If purchasers decide to go ahead with the offer as a rental investment, it is estimated that they would receive a reputedly guaranteed return of up to 6% for 5 years. 
If you are buying a property, be it new build or otherwise, be sure to get the advice of a local chartered surveyor – especially if that property is in an unfamiliar area.
—
 SRJ / BT                                                                                                                               10.05.14