The hills were alive with the sound of tax tills as the current Earl of Lonsdale thought up a novel way to pay off an estimated £9m inheritance tax liability brought about by his father's death in 2006. The result is a remarkable job for estate agents H&H Land and Property, who now have the responsibility of selling 'saddleback' mountain – a well-known 2,850ft peak in the Lake District.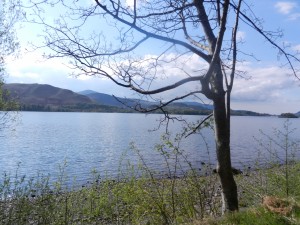 The Blencathra mountain is sited to the North East of Keswick and overlooks the village of Threlkeld, resulting in a feudal title transferring with sale of the land – Lord of the Manor of Threlkeld. Being a Lord also allows the new owner to apply to the College of Arms for an individual coat of arms. 
Hugh Lowther, Earl of Lonsdale and the current owner, elaborated on why he was selling up:
"My family have owned Blencathra and its manor for over 400 years, so the sale of this property will be a great loss," he said.
"However, we need to realise capital for inheritance tax following the death of my father in 2006 and our aim is to retain the core portions of the Lonsdale Estates intact as far as is possible."
The buyer will obtain grazing rights for 5,471 ewes, 732 hoggets and 200 lambs for the cool price of £1.75m.
The local population has already started a fundraising scheme with the intention of placing a bid and hopefully buying the mountain, which was beloved by many including Melvyn Bragg, climbing legend Sir Chris Bonington and hiking guru Alfred Wainwright. 
—
Details are available to download here for the curious and inquisitive.  The friends of Blencathra facebook group have been set up to raise funds and purchase the mountain – possibly as a memorial dedicated to the fallen, 100 years on from the Great War.
SRJ / LCB Â  Â  Â  Â  Â  Â  Â  Â  Â  Â  Â  Â  Â  Â  Â  Â  Â  Â  Â  Â  Â  Â  Â  Â  Â  Â  Â  Â  Â  Â  Â  Â  Â  Â  Â  Â  Â  Â  Â  Â  Â  Â  Â  Â  Â  Â  Â  Â  Â  Â  Â  Â  Â  Â  Â  Â  Â  Â  Â  Â  Â  Â  Â 10.05.14