In a landmark move for British property development, a contract, said to be the first of its kind, has been signed by Manchester City Council, the Greater Manchester Pension Fund and the Homes & Communities Agency (HCA) – marking the start of an important housing investment fund for the area.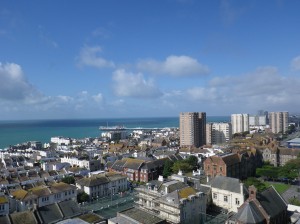 The development model plans to combine land released by the local authority and the HCA with  finance put forward by the pension fund, selecting Wates Living Space as the building contractor, Plumlife for sale and marketing the freehold properties and Places for People as agent and manager for the rental properties. The resulting joint venture company, Matrix Homes, aims to produce 240 new homes for sale and rent.
The scheme therefore manages to simultaneously free-up previously unavailable land whilst securing adequate finance – the latter being an aspect of the construction process which has been a significant obstruction to successful development since the 'credit crash'. Thus, whilst hard work was evidently required to reach such an agreement, the result is a localised solution to some of the biggest obstacles facing the supply side of the property industry.
If the idea were to catch on, spreading to Birmingham, Newcastle and perhaps even London – the result could be thousands more homes to help satisfy the burgeoning demand and keep prices stable.
For the 240 homes in Manchester proposed, the Council was quick to emphasise that a mix of tenures across the development would help the new properties to fit in with the requirements of each location. Cllr Nigel Murphy, Manchester City Council's executive member for housing and regeneration, added:
"This is a momentous day and a hugely significant milestone in what has been an innovative and ambitious approach to home building – and the joint venture company, Matrix Homes, is the end product of a huge amount of work that has made sure the project is viable. 
"Manchester's housing investment fund is the 'first of its kind' model to boost home building and we hope its success will lead to larger home building projects in the future." 
Cllr Kieran Quinn, Chair of the Greater Manchester Pension Fund, said:
"The current economic climate has seen home building slow down to an almost standstill, with levels of development not keeping up with the demand throughout Greater Manchester. 
"This new innovative model tackles these issues by promoting development opportunities while at the same time ensuring new attractive, affordable homes are available for our residents." 
—
Substantial developments often utilise Chartered Surveyors in a project management role, to satisfy the Party Wall Act or to instruct them towards the end of a project as part of a 'snagging' assessment. Surveyors of our network are independent, competent local professionals who can provide these services. You can find your local surveyor for this or any other type of surveying work here:
SRJ / LCB                                                                                                                            23/04/14