Many people may have a little giggle to themselves if they come across a rude street name on their travels, and why not, but this is not a laughing matter for owners of the properties situated on these streets. Sadly, they typically have difficulty selling, as recent studies reveal that rude road names are knocking, on average, a staggering £84,000 off the value.
Slag Lane in Lowton, Bell End in Rowley Regis and Cock A-Dobby are just three of the more family-friendly examples amongst the top 10 rudest road names in Britain where house prices are being affected.
The value of a semi detached house in Slag Lane, Lowton is £112,620 compared to that of a similar type of property situated 0.5 miles away on Fieldfare Close with an asking price of £141,297 – a difference of £28,677.
Similarly, a semi detached house in Bell End, Rowley Regis is valued at £126,409 compared with similar properties on nearby Uplands Avenue with values of £187,027 – a difference of £60,618.
A detached house in Cock A-Dobby is valued at £456,481 whilst a similar property in nearby Longdown   Road is valued at £615,000 – a remarkable difference of £158,519.
However, it is not all bad news. Research carried out by NeedaProperty.com found that Britain's top 10 most embarrassing streets to live on were on average a fifth cheaper than neighbouring roads, which could be good news for people trying to get on the housing ladder.
Scott Green of NeedaProperty.com states:
"with an embarrassing street name causing such a big difference in a property's value, it seems there are bargains to be had for those who don't mind a bit of innuendo."
Along with rude road names, broadband speeds are also having an effect on house prices, with property experts warning that slow broadband speeds can wipe up to 20% off the value of a house.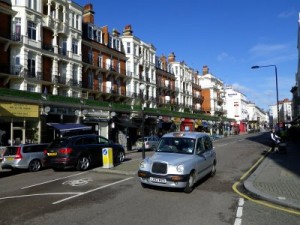 This has prompted property search website Rightmove to introduce a broadband speed checker to all of its listings enabling prospective purchasers to check whether speeds are sufficient for their needs.
Research carried out by Rightmove among 3,000 people has highlighted that broadband speeds are more important to homebuyers than transport links, good schools, off street parking and access to shops. Broadband is also often dubbed as the 'fourth utility' behind electricity, gas and water which again highlights its ever growing importance in today's society.
In fact, studies have also shown that 54% of homebuyers checked out broadband speeds before moving in but only 37% checked out local crime rate.
The ever growing importance of broadband speeds is also said to add as much as 5% to the value of the property and 18% of prospective homebuyers said they were happy to pay more for a good connection.
This is bad news for some properties located in rural areas which are often blighted with speeds of 2Mbps or even lower and, with the delay of the government's rollout of superfast broadband that was set to reach 95% of the UK and offer speeds of 30Mbps, there seems to be no solution in sight.