Rapidly rising house prices in the booming South East have made for an interesting market dynamic. The recent racing ahead has widened a substantial price differential across the country, which will be of interest to investors and those looking to move home in the coming year. 
The graphic below illustrates what property listing site adzuna believes are the best and worst places to buy property in the country.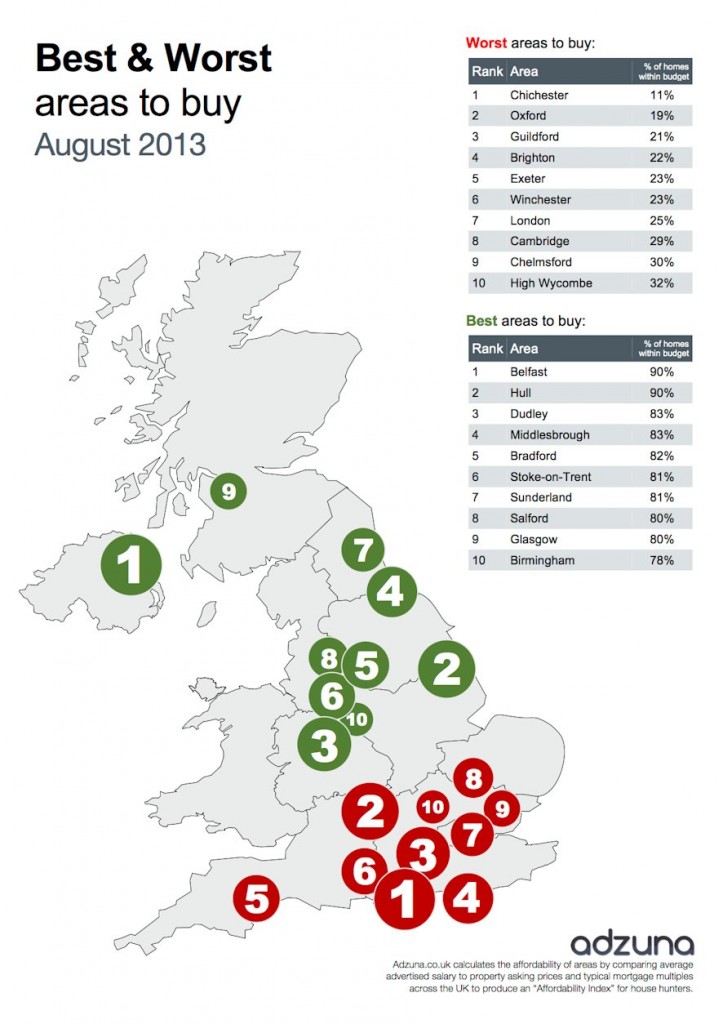 The study cross-references house prices in an area with local average incomes, to come up with a percentage of properties within a typical buyer's budget. As you'll note, Chichester came out at the bottom of the index – with just 11% of properties a realistic proposition for a typical buyer. 
At the affordable end, Belfast and Hull were joint top of the list with 90% of properties being within the typical local buyer's range.  The average asking prices in Hull, Middlesbrough and Bradford are only 2.2 times the average local couples' yearly earnings – £124,438. Not only is the average couple able to afford 9 out of 10 properties for sale in these areas, nearly all rental properties are within budget for those in full time employment.   
Buyers in these seemingly cheap locations, however, should be wary. Many analysts point to prices across the board being significantly higher than a level indicated as sustainable by current wage rates. With wages not looking too upwardly mobile at this time, even as growth begins to creep back into the economy, house prices may adjust downwards in the medium-term. 
Speculate or settle down? 
Whether to buy and where depends on what the reason for purchase is, therefore. Those buying long-term for a new home may look favourably on locations like Hull, where a large family home can be purchased without extreme levels of capital outlay. Although domestic buyers may lose some value on the property in the short to medium term, as long as they are happy enough to be stuck in it in five years time; the investment could be worth while. 
Further, a location like Hull, and the cheaper prices it offers, will limit the required 'gearing' (capital to mortgage ratio) – thereby lessening exposure to the interest rate rises that we are bound to see at some point soon; once the Bank of England finally pushes the base rate up from 0.5%. 
With more and more employees working from home and more 'footloose' businesses capable of operating from anywhere, we could see more buyers in the North this year, escaping London's expensive cost of living. Certainly, classical economists would suggest that a regional readjustment in this way is long overdue. 
Investors and speculators, though, must be aware that property market prices may lose momentum in the near future if the price to earnings ratio stretches too far. This could result in a downward shift in prices, by what some economists estimate could be 10% or so within the next few years. This adds substantially to risk, an essential consideration to any and all investors.
Whilst normal purchasers are more restricted in where they purchase property, speculators will be able to choose between regional markets. They will need to make a judgement on whether to put their money into the strong southern market, where prices have far outstripped wage levels; or the northern markets, where prices are much closer to sustainable levels, but yields and appreciation rates are typically less attractive.
The result should be an interesting year for British property.
09/01/13                                                                                                              SRJ/LCB