Viscount Cowdray is amongst thousands of fresh fracking protesters as it emerges that a planning application to begin test drilling in an area that borders his vast estate, is to be submitted by the gas and oil company – Celtique Energie.
He was first approached by the company 18 months ago, when they requested permission to drill for oil and gas on land that surrounds his home – Greenhill House, Fernhurst. Having refused their request, Celtique Energie then approached a local farmer who owns surrounding land.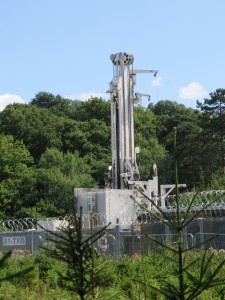 Cowdray, one of Britain's largest land owners, owns a 16,500 acre estate in the South Downs that surrounds the proposed drilling site. The proposed 5 acre site of pasture and woodland is situated in Fernhurst and is considered as an area of outstanding natural beauty.
Fracking would be "entirely unacceptable" in the South Downs explains Cowdray, who is concerned that as well as putting ground water at risk of being polluted, the process will be hugely disruptive. It has been suggested in one industry-sponsored report, that 31,288 lorry movements could be required for just one drilling site over a 20 year period.
Together with thousands of supporters of the 'Frack Free Fernhurst' campaign, Cowdray has joined a 'legal block' spearheaded by Greenpeace refusing any permission for drilling.  He has also recently registered the verges next to the entrance for the proposed site as belonging to his estate and will refuse any request to widen the access . Perhaps most significantly, Cowdray has notified companies likely to seek permission for any fracking activities that he will not allow permission for drilling to occur under his land, even if the drilling site itself is owned by a third party.
Anna Jones, a campaigner at Greenpeace had this to say about the legal block,
"Under English law, if you own your land, your rights extend to all the ground beneath it".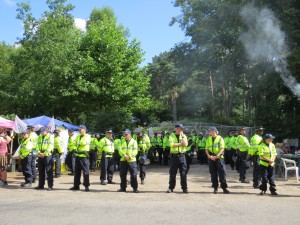 It is important to note, however, that certain resources remain vested in the crown. The Petroleum Act 1998 established that all natural gas, including shale gas, in Great Britain or the United Kingdom's territorial seas belong to the Crown. It will be interesting, therefore, to see what action, if any, the pro-fracking government takes to utilise this act and help interested companies penetrate the block.
The legal complications of fracking don't end there, however, as the process of fracking could potentially materially change the ground and the water table adjacent to a site where fracking is taking place. This could result in legal claims for compensation by adjoining land owners and others adversely affected.
The assessment and limits of such would inevitably need to be established and 2014 may see new precedents set, subject to appropriate court or tribunal decisions. It may not, therefore, be simply a question of whether landowners can bring action over drilling under their own land, and the rights of adjoining landowners could come into play in a significant way.
For a clearer understanding of the legal position with regards to fracking, please read our article by clicking here.
—
Elsewhere, Third Energy, which is 97% owned by Barclays Natural Resource Investments and a private equity arm of Barclays Bank, has suggested that it could fund fracking operations in Yorkshire as early as next year.
The company, which has drilling rights across a vast 154 square mile area around the Vale of Pickering has recently taken shale rock samples whilst drilling in Kirby Misperton and is now analysing them.
Third Energy's Chief Financial Officer, David Robottom, has expressed that if the results are found to be "very encouraging", they would aim to drill three or four wells "as soon as possible".
The company is well aware that before any drilling can take place, planning permission must be granted and even if tests are carried out next year, it is predicted that commercial production would not begin until 2017 at the earliest.
If there is a local Viscount with a serious distaste for Fracking drilling, it might take even longer…
BT/SRJ/LCB                                                                                                   05/12/13