In order to help with reducing the government deficit, some of this country's most vaunted and historically significant assets will be, and already have been, sold off. The desperate trend has been increasing in recent years, despite many critics voicing concerns that doing so cuts straight at the heart and centre of historic Britain.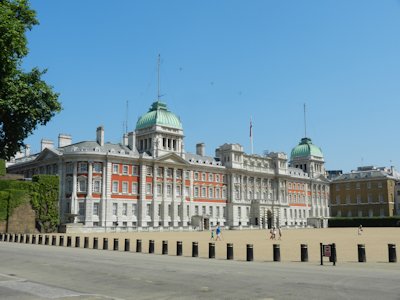 Nevertheless, after we reported last year that the Government had sold off the historic, Grade I listed Admiralty Arch at the end of Pall Mall, the government is further pursuing the policy and is now prospectively considering selling the old Admiralty building at the top of Horse Guards Parade.  
The intention is to effectively cut as much spending as possible on central government offices. The total cost is reputedly some £1.8bn a year to run the London office portfolio of central government and in these austere times, the intention to cut back and sell off surplus space is forever at the forefront of MP's minds. 
The building in question here has been home to the Foreign and Commonwealth office since the 1960's. It is the largest building in the immediate area and was once linked to the Admiralty Arch, which was sold and turned into a hotel on a long leasehold basis last year. 
Many people believe that it is somewhat sad that the government is considering selling off such historic buildings, which are very much part of our identifiable national heritage. The building itself is owned freehold by Her Majesty's Government, but in reality that means it is owned by the country and this Government, as with all Governments, is only a transient keeper.
Proponents argue that the property is Grade I listed and thus, whoever the owner, it is afforded a considerable amount of protection. Part of the reason for selling off the Arch last year was actually its preservation, with the Government unable to afford substantial ongoing maintenance and renovation requirements that won't be a problem for its new owners whilst they convert it into a 100 room hotel.
Evidently, sometimes making best use of the country's assets can directly conflict with the protection and respect we should have for our architectural heritage and our history. One can only hope that the protections already in place for this much loved building are not abused by its new owners.
LCB / SRJ                                                                                                                                   3.7.13