The built landscape is constantly changing (and will change rapidly if Nick Boles has his way), so when buying a new home, you cannot always rely on unspoilt views and a tranquil setting. Something Mr Graham Cowley now knows all too well…
When buying his dream retirement home, Graham Cowley decided upon a bungalow with unspoilt countryside views in Newborough, Cambridgeshire. Sadly, eight months down the line he has been told that the views may be on the verge of destruction, as plans to build Europe's largest renewable energy plant on surrounding land emerged.
Peterborough City Council have put forward the plans for a site that will include 500,000 huge solar panels, several large wind turbines and an 8ft tall fence complete with CCTV cameras…all only 100 yards from Mr Cowley's front door. The plans, which were originally for a 3,000 acre site, were later reduced to 900 – still roughly equivalent to 700 football pitches.
Mr Cowley, who spent £225,000 on the bungalow, claims the property would be almost worthless should the development go ahead and that he will receive no compensation or the opportunity to relocate. Of course, it is not just the views that will be affected; Mr Cowley will also have to put up with the constant noise generated by the wind turbines.
Graham expressed his anger by reputedly saying 'My views are going to be completely spoilt…I may as well commit a crime and go to jail as I would probably have a better quality of life.'
Others that will be affected by the scheme include farmer William Cave who says 'it's very distressing. People will lose their livelihoods and homes.' He is currently renting land off the council, along with 8 other farmers, which will be used for the proposed site. It is understood they have been offered new land and compensation.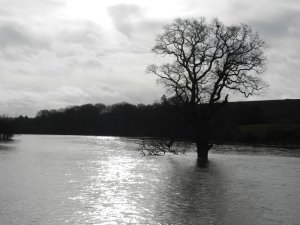 The lifetime cost of the project is estimated to be around £331 million; which includes installing the panels, maintaining the site and the interest payments on the government loan.
Of course, it is not only modern energy installations that could surround your home. Many UK residents woke up with water lapping at their walls this winter. Read our thoughts on the flooding and its' development implications here.
—
Comment – Under such circumstances as those facing Mr Cowley, where a neighbour is a local authority who clearly has had this proposal in their medium to long term plans, is it unreasonable for Mr Cowley to be compensated or his property purchased by the council? His notification prior to acquisition may not have been a pre-requisite, but he will be severely affected nonetheless.
—
We value your input. If you have thoughts or opinions on this article or subject, a suggestion for a different article or would simply like to let us know you enjoyed it (or not!), please use the form below to provide feedback. Many thanks!