In one of the most controversial political positions taken by a new Minister since the cabinet reshuffle in September, new Housing Minister Nick Boles MP has revealed on the BBC's Newsnight programme his stance towards the 'housing crisis'.

Mr Boles risked offending millions of rural dwellers who have shown themselves to be reticent towards development in their own areas, by suggesting that an additional 1,500 square miles of Greenfield (clear sites without previous development) land should be built on in order to solve the housing shortage facing England.
An area that large is the equivalent of twice the size of Greater London and constitutes an additional 3% on top of the 9% of England that is already built upon. It has been strongly reaffirmed, however, that the Green-belt land will continue to be protected.
The comments come in the context of a Cabinet meeting held by the Prime Minister on the Tuesday beforehand, in which it was reputedly stressed that he wanted to see "every department prioritising growth". The week before, Deputy Prime Minister Nick Clegg commented that Britain had been under-building for decades.
Mr Boles said:
"We're going to protect the green belt – but if people want to have housing for their kids they have got to accept we need to build more on some open land.
"In the UK and England at the moment we've got about nine per cent of land developed. All we need to do is build on another two to three per cent of land and we'll have solved a housing problem."
"Land is expensive but to some extent [developers] are just lazy. They didn't talk to local people or get involved enough. But also it's just b****y expensive to build because land is expensive."
"It's my job to make the arguments to these people [those who oppose development] that if they carry on writing letters their kids are never going to get a place with a garden to bring up their grand kids.
"I accept we haven't been able to persuade them. I think it would be easier if we could persuade them that the new development would be beautiful."
Figures from market analysts Glenigan show that in 2011 only 115,000 homes were given planning permission in England, compared to 212,000 at the height of the housing boom in 2007. At that level, the Institute of Public Policy Research has warned that England faced a housing supply 'black hole' by 2025, with a shortfall of 750,000 homes.
Response has been mixed, as expected. Unsurprisingly, many housing developers like Steven Lees, Director of SmartNewHomes, are on side.
Steven is reported as saying commented:
"With the UK crying out for millions of new homes, it is reassuring to hear that the new planning minister intends to tackle the issue head on. Without a sensible level of development over the next few years, an entire generation will only ever aspire to own their own home."
But, particularly in the context of the recent flooding, many are also set against the policy, fearing unrestrained development on England's green and pleasant land.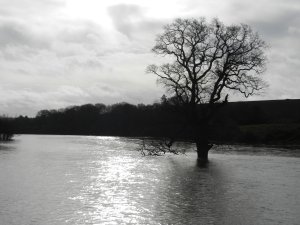 With too many homes built on flood plains, leading to unnecessary cost and destruction in the recent spell of bad weather, yet more development will undoubtedly also encroach onto these natural spillways. The result, critics claim, will be both flood damage to the new properties and even worse floods due to the increase in impermeable surfaces.
At this stage, the policy stance of this prominent Minister does not mean concrete policies are in the pipeline, but many will fear that his views, coupled with the Government's wider pursuit of sustained growth, pose a real danger to England's open spaces.