The Government has stepped in to save one of Britain's most famous vistas – the world heritage site at Ironbridge Gorge, Telford – by committing a £12million 'keystone' to conserve and protect it, Communities Secretary Eric Pickles announced.
Ironbridge Gorge is home to the world's first ever cast iron bridge (pictured).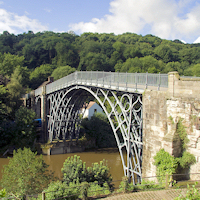 Described by writer Charles Hulbert in1837 as "the most extraordinary district in the world", Ironbridge Gorge in Telford and Wrekin, regarded by some as the birthplace of the industrial revolution, is under threat from landslides and slippage which could damage and even destroy the historic site and tourist industry it supports.
The site sits alongside such marvels of the world as the Taj Mahal, Great Wall of China and the Egyptian Pyramids, on list of world heritage sites and plays an important role in the local economy.
Each year the Ironbridge Gorge draws in over half a million tourists from near and far to the area and pumps £20million into the economies of Telford and Wrekin and the wider Shropshire area.
Constantly shifting river banks and the weight of stone in the abutments squeeze the Bridge, cracking ironwork and buckling the deck. The first reports of cracking in the Bridge were made as early as 1784, and repair and maintenance has become regularly necessary ever since.
Mr Pickles said:
"The picturesque 18th century Ironbridge Gorge stands as a monument to modernity and the industrial revolution – a testament to British ingenuity and ambition that has been universally protected as a World Heritage Site for all to marvel at. This summer we have seen just how much there is to be proud of in Great Britain so it is vital that we do not let places like Ironbridge Gorge deteriorate or slide out of sight.
"Today I can announce that the Government is stepping in with a £12million keystone investment that will preserve Ironbridge Gorge's place in history as one of the world's great symbols and a site of outstanding beauty for generations to come, making certain it can continue to draw in visitors and bring money into the local economy."