The modern political slang term 'woke' has African American origins and refers to the perceived awareness of issues concerning social and racial justice.
The property finance website Bankrate UK, which is a trading name of Uswitch, has conducted a survey identifying the most 'woke' cities in the UK. How does your home city rate against others ranked the UK's 'most progressive places in which to live and work'?
The UK's most woke city would be a politically active and mobile community with an awareness of workplace equality and local council diversity. It would also handle its waste responsibly, control its carbon footprint and make it easy to avoid animal products.
Fifty UK cities were compared in different categories including gender pay, household recycling rates, voter turnout, vegan/vegetarianism, Google search trends on woke-related issues, low emissions vehicles and diversity at local council level.
The top ten 'woke' UK cities all have a strong student presence. Led by Oxford, which came top of the list, followed by Brighton, Bath, London, Cambridge, Bristol, Leeds, Cardiff, Exeter and Leicester.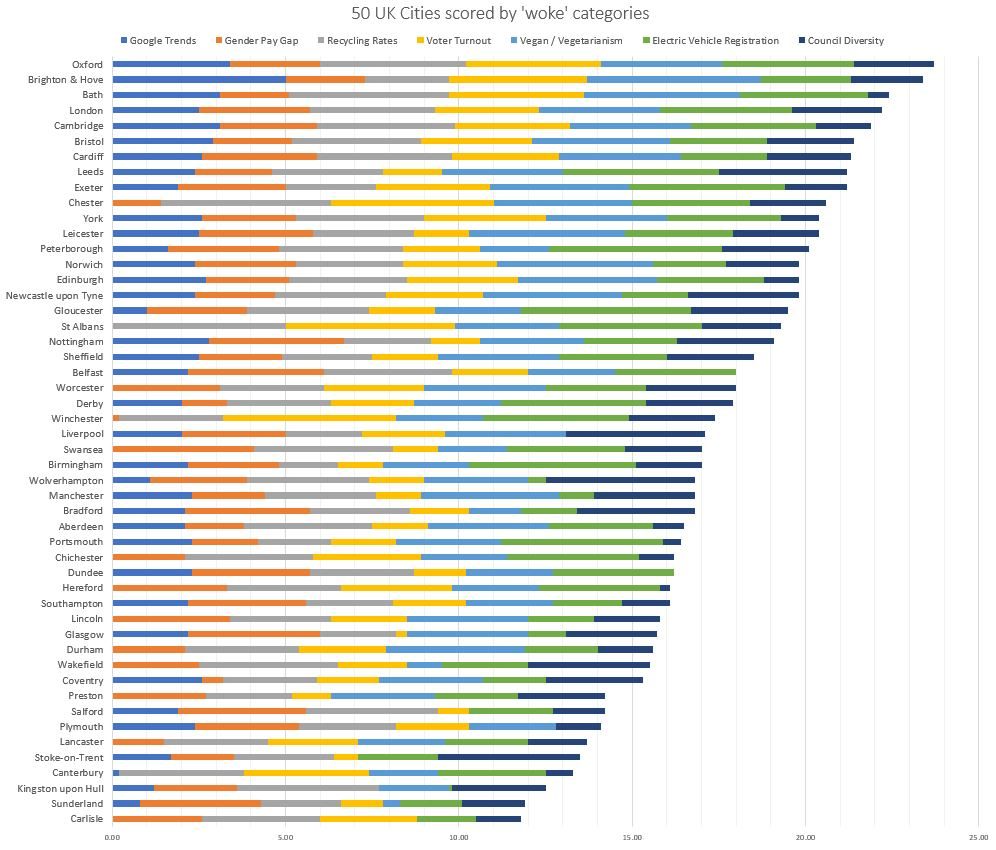 Of the seven categories considered, Brighton & Hove came out top for Google trends and vegan/vegetarianism, Peterbrough for electric vehicle registration, St Albans for recycling rates, Winchester for voter turnout, Wolverhampton for council diversity and Swansea for the smallest gender pay gap.
London did not score in the top ten in any of these categories but its combined score took it to number four on the list. The highest scores for London were electric vehicle registration (eleventh place) and related search trends (twelfth).
Oxford did not score highest in any of the categories but overall came out with the highest score.
If you're tempted to move home to one of the UK's 'woke' cities, ask a Property Surveying Chartered Surveyor for a building survey.
Back to November 2019 Newsletter
© www.PropertySurveying.co.uk
SH/LCB