As the case of the homeowner in Sandbanks, Dorset, has recently proved, planting the wrong kind of tree in the wrong location can prove expensive.
Trevor Beale 'deliberately breached' two preservation orders by pruning the canopies of Scots pine trees planted in his own and a neighbour's garden in order to enjoy more natural light on his patio. Property experts subsequently estimated that his actions had increased the value of his £1.2 million property by up to £100,000, and the prosecutor confirmed that natural light in a property made "a big difference to the value, saleability and potential rental income".
However, Mr Beale did not consult his neighbour before reducing the canopy and his handiwork was likely to have a significant permanent impact on the trees.
Mr Beale pleaded guilty to twice contravening tree preservation regulations and following expert evidence from property surveyors, he was ordered to pay £40,579, representing the value the illegal act was likely to have added to his five bedroom home. He was also fined £2,700 and ordered to pay court costs of £15,500, and further action will be taken against him if he fails to pay within three months.
Planting trees near property
A pine tree can safely be planted less than 10 metres from a property, but the likelihood that it will grow to a height of over 25 metres would make planting it next to your home less than desirable. Other, smaller trees might seem preferable, but planting too close to a building could well lead to subsidence or heave.
What is the difference between subsidence and heave?
Subsidence is the downward movement of soil, often caused by the withdrawal of moisture that causes the ground to shrink and can result in a building's foundations being pulled down with it. Trees and shrubs planted too close to property can cause subsidence as they absorb significant volumes of water from the soil.
Heave is the upward movement of the soil level, usually due to an increase in the moisture content. Clay soils absorb and hold more water than granular soil, and have a corresponding increased heave when wet and subsidence as they dry out. The death or removal of mature trees close to property can often be the cause of heave.
What to plant and where
Oak, willow and poplar are known to cause more problems with root penetration of foundations and drains than other trees and their roots can extend to an area as much as 2.5 times the height of the tree.
Make sure you don't plant trees too close to your own home – or your neighbour's property. Check this chart to see how far away it is safe to plant and how tall your fully mature tree is likely to reach.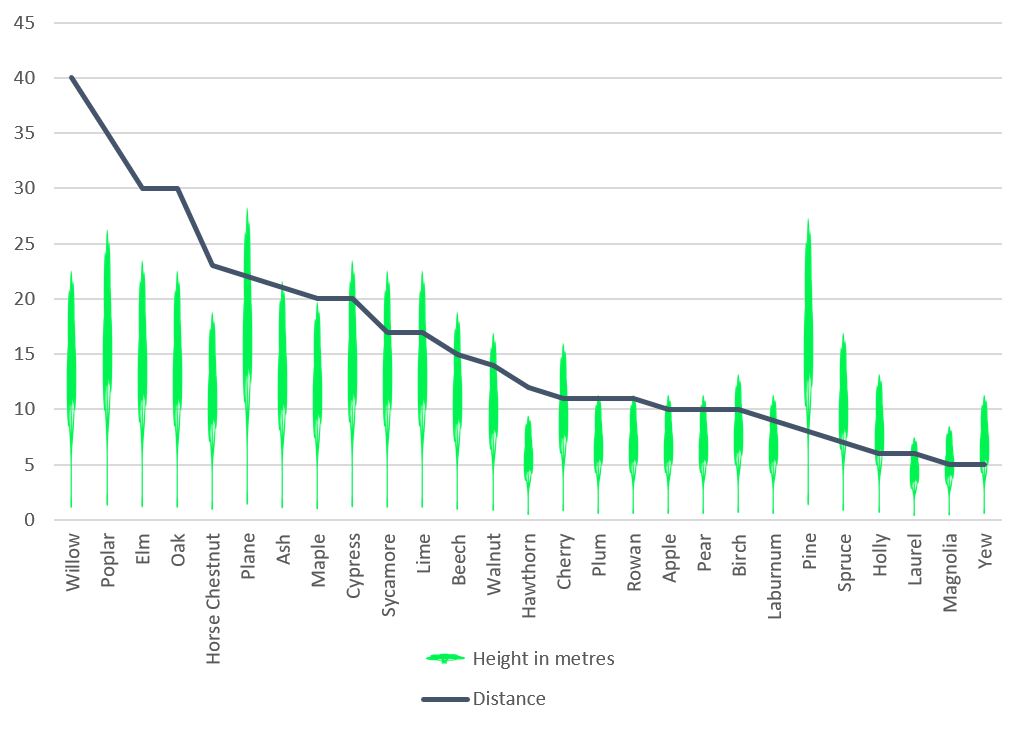 Read more about the effects of planting trees too close to property in our article: How close is too close, when it comes to trees in your garden?
A Chartered Surveyor will look at the trees and shrubs planted around your property and will provide you with a survey report that will include any evident structural damage. Your surveyor will also investigate the presence of Japanese Knotweed.
Back to October 2019 Newsletter
© www.PropertySurveying.co.uk
SH/LCB