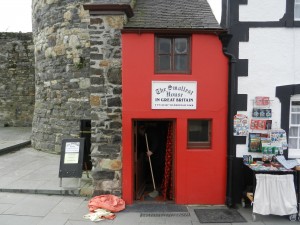 Tiny homes are starting to spring up across the UK as developers exploit a change in planning rules where offices can now be converted into flats without normal planning regulations.
Some experts have branded the properties the 'worst homes in Britain' and say they will become the 'slums of the future'. Landlords are charging people, in some cases vulnerable adults, as much as £800 per month to live in tiny bedsits that are squeezed into old office buildings. The flats are barely the size of a standard parking space at 150 sq ft.
The size of the properties mean they are susceptible to mould, due to poor ventilation, as well as noise from other tenants in a close proximity. The homes are often built on industrial estates or on busy and noisy roads.
Property developers are starting to see this as a fast, money making operation. In 2013, there was a change to permitted development rights which gave developers the opportunity to build homes with little natural light, air quality or outside space.
The developers
There are plenty of developers emerging from this lucrative market.
Caridon, a property group based in the London Borough of Croydon, receives almost £8 million pounds in housing benefit payments to house tenants in homes that are actually only a third of the recommended minimum size. The group has created in excess of 700 flats by converting nine large office complexes into residential areas. None of the buildings meet the minimum guidelines for living comfortably. However, councils are left with little choice but to house people in them if they cannot find an alternative.
Caridon defended its practices, saying it created homes to help house as many people as possible and keep rents affordable. The property developer said the homes were not designed as a permanent solution but to help people affected or facing homelessness.
Another property developer, Joel Weider, the owner of a double glazing company, has converted ex-office spaces into homes that have been branded 'hell holes' by one MP. Weider is currently involved in three conversion schemes, including the Connect House development which houses families in South London. 
Anwar Ansari, a former eye surgeon and former chair of Croydon's Central Constituency Labour Party, is behind AA Homes. He became a property developer after converting a former office block into small one and two bedroom flats. He was hit with a £32,000 fine by Croydon Council under its landlord licensing scheme when it was found he was unlicensed. The former office block he converted into one and two bedroom flats also breached fire safety checks.
Minimum requirements
The flats converted by would-be developers often comprise just one room that includes a bed and kitchenette alongside a tiny bathroom with shower, sink and toilet. To cram as many homes as possible into one space, the layout of the rooms may be odd shapes, which can cause additional sound issues for neighbouring tenants as well as making them feel hemmed in.
Another issue is the level of anti-social behaviour among residents. The flats put a wide variety of people close together and there are cases of families with young children sharing buildings with drug users, vulnerable people with mental health issues, ex-prisoners, alcoholics, etc. This is a veritable hot bed for high tensions amongst the residents. The government underestimated the number of developers who would take advantage of the change to permitted development rights. There were 14,000 applications within a five year period as opposed to the expected 140. This surely highlights the housing 'crisis' in Britain – or the desire for entrepreneurs to make money out of the situation.
With housing costs at record levels, particularly in London, there is little choice available for people unable to afford a home. These properties often house vulnerable people who pay up to £800 for a studio/one bed flat and between £1,000 and £1,200 for a two bed home, usually funded by housing benefit. The developers make sure that a cooking area and a small bathroom are included in the space to ensure that the bedsits are eligible for the full rate of benefit payments.
Housing research leader Julia Park who works for architect firm, Levitt Bernstein described the properties as "some of the worst homes in Britain", saying that the changes had enabled developers to "stoop low" in the pursuit of money. She said the conditions would greatly affect a tenant's quality of life. The cramped, noisy, dark areas with little privacy harked back to the Victorian era when families were crammed into tenement buildings. Some of the conversions don't even have outside windows for natural daylight and instead are relying on 'light wells'.
Henry Smith, from the Town and Country Planning Association agrees that developers have taken advantage of a loophole. He said it was 'shameful' that people were being housed in this way in the 21st century and as part of a wealthy nation.
In its response, the government said that a review of the quality of homes is being carried out into homes built in this manner.
Back to August 2019 Newsletter
© www.PropertySurveying.co.uk
SH/LCB