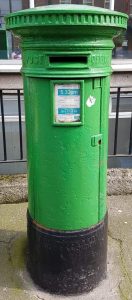 The Communication Workers Union (CWU) is celebrating a landmark victory for postal workers across the UK after the government agreed to alter building regulations on letterbox heights later this year. The high profile campaign which had postal workers striving for the European Standard to be added to the UK's Building Regulations has gained momentum over the past few months. The CWU first raised concerns as long ago as 1958, when the British Standards Agency stated that letterboxes should be at a 'reasonable' height but no legislation was implemented.
The campaign peaked in January 2019, when a Private Members Ten Minute Rule Bill sponsored by CWU and Royal Mail was presented to a full House of Commons and received support from all political parties.
Incidents involving dog bites are common, often resulting in hospital care and finger amputations, but Royal Mail says that back injury is the main cause of reported sickness amongst its staff with nearly 17,000 reported cases in 2018.  Stooping to deliver letters or parcels can result in repetitive strain injury and joint injuries, and also risk damage to packages which are crammed through letterboxes that are too narrow. Low level letterboxes are also associated with an increased likelihood of injury from pet bites and letterbox theft.
The Building Regulations Advisory Committee has formally endorsed the CWU's recommendation to alter the regulations and has asked the government to make an inclusion in part 'M' which is a section of a revised Building Regulation. The addition will result in a new minimum height for all letterboxes across the UK. A formal review will take place later in the year and the standard height will be rolled out across all new build homes and buildings, refurbished properties and building replacements.
The Communication Workers Union has recognised that changes won't happen overnight and so far there is no expectation for private home owners and businesses to make changes to their front doors. 
In 2002, European Standard EN 13724 was released which stated that, for 'ergonomic and safety reasons', the centre line of the letterbox aperture should be at a height between 700 mm (2'3 1/2″) and 1700mm (5'7″). This is what the CWU called for and the standard that will be implemented later in 2019.
Ask a Chartered Surveyor for a Building Survey to assess the condition and structural elements of your new property and ensure it conforms to Building Regulations.
© www.PropertySurveying.co.uk
ME/SH/LCB