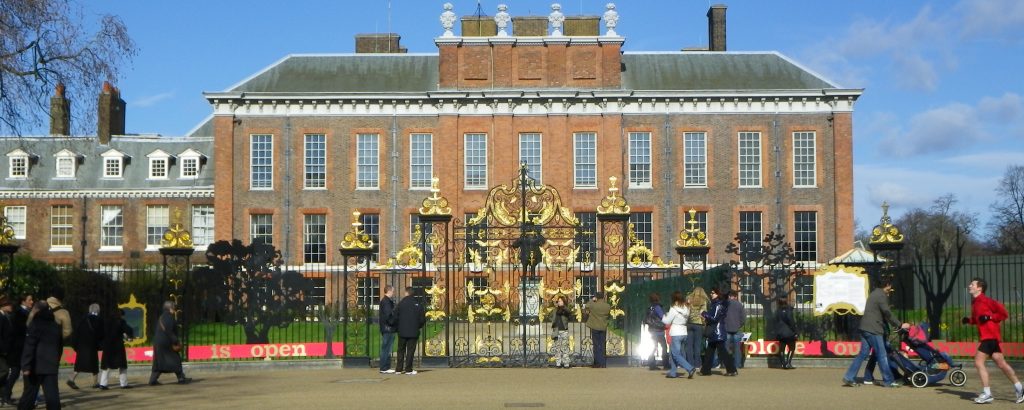 Online estate agent, Zoopla, has named the top ten priciest streets in and outside the capital.
The top ten most expensive streets in Britain are all in London, although house prices have fallen by an average of £4.6 million in these places.
For the tenth year running, London's Kensington Palace Gardens has been named the most expensive street in the country. The average price of property in Kensington Palace Gardens currently stands at an average £35.6 million. The road's value has climbed £12 million in the last decade but its prices have dropped for two years running, and lost an average £1.3 million since last year.
Kensington Palace Gardens runs between Notting Hill and Kensington and was built from the 1840s; just twenty years later it was already known as 'millionaires' row'. The census survey of 1871 reveals that one house had twenty servants. The Royal residence of Kensington Palace, home to the Duke and Duchess of Cambridge, the Duke and Duchess of Sussex and other royals, is adjacent to Kensington Palace Gardens, and its residents include Chelsea Football Club's Roman Abramovich and Formula One heiress Tamara Ecclestone.
Some of the most expensive streets on the outskirts of London could actually have the price tag of a small island. One of the most expensive streets is in Surrey, Montrose Gardens in Leatherhead, where a property can cost nearly six million pounds.
According to Zoopla, the UK now has 17,289 streets with an average house price of one million pounds or more -  an increase of 20% in the past year. The ten towns with the most streets with an average property value of one million pounds or more outside London are:
Over 91% of the streets with an average property price of one million pounds or above are located in the south of the country and over 37% can be found in the South East.
A 25-minute commute to London and the attractive riverside setting of some of the more expensive streets in Reading help to keep the town's property prices high, but millionaire enclaves can also be found outside of the Home Counties. Broadway, in Altrincham, Greater Manchester, has been described as a 'camera shy millionaire row', maintaining its exclusivity by remaining a private road – meaning that the Google Street View camera was barred from going there. Among other big hitters are Robins Nest Hill in Hertford, Dock Lane in Brockenhurst and Lovelace Avenue in Solihull.
Zoopla's Lawrence Hall said: "Despite London's property market continuing to plateau, its sheer desirability means that its most exclusive boroughs continue to dominate the list. While the capital may be home to the most expensive streets, it's the South East that takes the top spot for the highest volume of streets with an average value of £1 million or more, perhaps due to the rising cost of London's commuter-belt areas."
Don't wait until your property buying power is over a million pounds – ask your local Independent Chartered Surveyor for a building survey when buying property in London, Reading, Manchester, Brockenhurst, Solihull or anywhere else in England and Wales.
Back to November 2018 Newsletter 
© www.PropertySurveying.co.uk
ME/SH/LCB