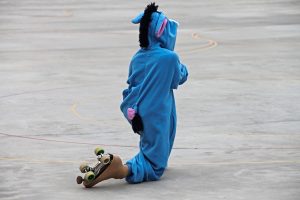 The Royal Institution of Chartered Surveyors has responded to industry reports that 'down valuations' are making it difficult for buyers to obtain a mortgage.
Estate agent, Emoov (no relation to Eeyore), has accused surveyors of predicting a financial crisis by providing 'down valuations' of property when valuing on behalf of lenders, a practice they say leaves buyers having to find substantial sums when taking out a mortgage. The online agent claimed that 20% of its buyers had been affected, up from 5% two years ago and the highest since the last financial crisis in 2008.
A 'down valuation' is the term given when a lender's valuation is less than the valuation provided by an estate agent or seller.
The Royal Institute of Chartered Surveyors (RICS) said: "The market value is based on comparable market evidence, on a number of sales of similar properties in the same area, combined with professional knowledge of the local market. For this reason, it is very possible for property to sell for less or more than the valuation."
When a buyer and seller agree the sale price of a house, the mortgage lender will arrange for a valuation to be carried out to assess its exposure to risk. If the mortgage lender lets you borrow more money than a property is worth, you and the lender could end up being financially exposed and you could be left in negative equity and unable to sell the property. You may even lose your home if you find yourself unable to pay the mortgage loan secured on the property.
This is why, when you borrow money from a mortgage lender in order to purchase your new home, the lender will ask a surveyor to establish that you are paying the market value of the property. It won't necessarily be the same price you have agreed with the seller or the price a cash buyer would pay for the property.
As the buyer, you must commission your own independent survey from a RICS Chartered Surveyor, who will provide you a survey that will report on the property's condition, as well as any potential issues. A Chartered Surveyor who is also a Valuer can provide a valuation with the building survey.
The valuation provided by an independent Chartered Surveyor will look at different factors, including supply and demand, other properties in the local area, and his/her own professional knowledge. This could be different from the lender's valuation, which is designed to meet the lender's own security needs and doesn't reflect the full condition of the property. The lender wants to establish that the house is worth more than the sum of money being borrowed to ensure their mortgage lending is very secure.
Beware 'drive by' valuations!
When you buy property, make sure you use an independent RICS registered Chartered Surveyor. It has been known for unscrupulous property valuers to simply drive by the house or even look at Google Maps. While this 'method' may give some impression of the exterior of the building, it in no way reflects the condition of the interior, including any upgrades or renovations, and is certainly not usually in the interests of the buyer or seller!
So has there been an increase in 'down valuations' and why?
The current market in different areas of the country is revealing fluctuations in house prices and transaction levels.
RICS registered Independent Chartered Surveyors and Valuers have a legal duty to their clients to provide independent and accurate information. When valuing property for mortgage lenders (or indeed house buyers), surveyors must be able to evidence the value they award to property, as they can be legally held to account if the survey does not follow the strict standards required. Establishing the correct 'market value' will safeguard the lender from loss by preventing them from lending too much against the property, and protect house buyers against borrowing more than the house is worth.
Therefore, in these uncertain times, it is quite possible that mortgage lenders may not be prepared to value a house as highly as a buyer or seller.
'Down valuations' and new build property
You might think that new build developers would sell their properties at the market rate. While it isn't in the interests of developers to have their house buyers declined lending, it is in their interests to sell for the highest price they can achieve. In some areas, this can appear to inflate the market, for instance when there is a shortage of comparable property in the area. 'Comparable property' would have been recently sold, have the same floorspace, number of bedrooms, postcode, and be in the same condition. New build house prices paid can also be up for negotiation.
When you look at buying a house, consider using online property sites, such as Rightmove, to look at the details of similar properties, including floor plans, to check that you are paying the right price before applying for funding from a mortgage lender.
Make sure you buy a property you can afford and avoid costly errors by contacting your local Property Surveying independent Chartered Surveyor.
MRE/RW/SH
Back to August 2018 Newsletter