A new trend of miniature homes is taking the United States by storm and it is heading this way!
The tiny house movement spreads to the UK as US company Modern Tiny Living launches a range of 256 sq ft luxury properties with a price tag of just £60,000.
The Kokosing is a perfectly formed home on a trailer meaning that, not only is it more affordable, it is also a mobile home. It can sleep two people on one floor and another two people on a fold-out bench.  All the mod-cons are included, with a 32″ flat screen TV, washer/dryer and a separate storage room that is hidden in the living room flooring and stairway.
So will what has been described as 'a shed on wheels' answer Britain's housing crisis? Well, the tiny house movement is a growing trend in the US with lots of people wanting to live a simpler and less cluttered lifestyle.
With UK house prices spiralling and many young people finding it very difficult to get onto the property ladder, other solutions are being sought out and for some people this may be the answer. The Modern Tiny Living company make the houses in Columbus, Ohio, but can ship to the UK.
The houses are very modern looking with high end bathrooms and a double bedroom. The 24 ft long trailers have everything you need fitted into a compact space. Storage is not an issue with the hidden area in the living room flooring /stairway. The exterior panelling, sleek bathroom and double bedroom which lies at the top of a set of stairs give the trailer a modern, fresh look.
Co-founder of the company, Robert Hendricks, says, "It has definitely become one of the most popular tiny homes in the world, especially for its size."
He states, "I use the word 'liveable' because there is a tried and true social area (which is also a bed), a full, luxury kitchen, full bath, and plenty of room for a queen or king in the loft. It is definitely the most liveable in the world with tons of storage. Now, there are bigger (and much more expensive homes) that are more liveable I suppose, but at this size and price point, I really don't think it can be beat."
The homes are available to live in as soon as they arrive, so the new homebuyer can move in straight away. You can even accommodate guests as the benches fold out to sleep two people.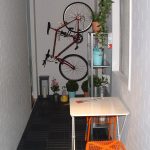 With the tiny house movement becoming ever more popular, Mr Hendricks explained why some people are rejecting the more expensive conventional way of living. He said: "The tiny house movement is about refocusing on what's most important in life. We live in this keeping-up-with-the-Joneses world, where everyone is trying to go bigger, bigger, bigger – more stuff, more money, more technology. Not that there is something inherently wrong with these things, but we can all agree that very often more is less and less is more."
He added: "It is connection that fulfils us, not stuff. We need connection to ourselves, to others, to nature."
With any property, large or small, it is always advisable to get a valuation and/or survey done by a qualified Chartered Surveyor.
MRE/SH