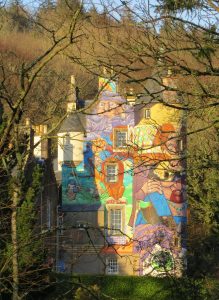 An article about the residents of Nettleton Road in Gloucester and their brightly coloured houses went viral in April, and was shared by the Metro, Daily Mail, Mirror and even Donald Trump's favourite, Fox News, amongst others.
The house painting began when Tash Frootko, who is an artist, painted the two houses she owns on the road. Ms Frootko suggested to neighbours that they paint their own houses to follow suit. She said she wanted the 1890s buildings to reflect the diverse demographic of the road, although it was discovered on preparing the walls for repainting that the houses had originally been multi-coloured.
The residents said the houses' strong visual impact had lifted their spirits and had had a positive social impact on their wellbeing. Relations between neighbours had improved, and they were engaging in conversation with new people and finding laughter among neighbours.
Comparisons have been made to Tobermory on the Isle of Mull (known to many through its association with the children's TV series, Balamory), and Totterdown in Bristol, where several adjoining streets have enjoyed their colourful existence for years.
Bristol, in fact, has plenty of colour – there are brightly coloured properties in Hotwells, Clifton Wood, Clifton Down, Montpelier, Stokes Croft, Redland, St Pauls, St Werburghs, Easton, Windmill Hill, Bedminster, Southville and Redcliffe too!
While most won't have chosen such a vibrant colour palette as Nettleton Road, there are plenty of other places in the UK where residents have gone the extra mile to bring bright colour into their lives: Portmeirion and Tenby in Wales, Ludlow in Shropshire, Norwich in Norfolk, Notting Hill in London and Portree on the Isle of Skye, to name but a few.
Just as well really – estate agents have said that the Gloucester houses may well have added extra monetary value to their homes in the process.
It may only take a few coats of paint but, with a bit of community spirit, neighbours can transform a drab suburban terrace into a row of vividly painted Victorian homes. One of the most popular colour choices for happiness is yellow, as apparently its resemblance to sunshine brightens the mood. It might be worth considering when you purchase your own property! But before painting your home in a shocking shade of yellow – or pink – or turquoise – or purple – check there are no local bylaws prohibiting you from doing so.
Listed buildings are not generally allowed to undergo a dramatic exterior paint-over. In 2007, the Earl of Glasgow, owner of Kelburn Castle (pictured above), decided to commission a Brazilian street artist to paint a mural featuring a psychedelic series of interwoven cartoons on the 13th century old building. The painting was completed in 2007 at a cost of £20,000 on the understanding that it was temporary pending replacement of the render within three years. In 2012, he was ordered to remove it. The mural has featured on 'top 10' lists along with Banksy and other street artists – and, still in place, is celebrating it's tenth anniversary in 2018 with a 'Graffiti Project' that is, as yet, to be unveiled.
Of course, if you buck the trend too far you are likely to lose friendly relations with your neighbours, if not from the value of your home. You might be reminded of the property developer-owner of a house in Kensington in London who, in a bid to offend the neighbour who had opposed her plans to demolish and rebuild her £4.75 million property, painted it in red and white stripes. The case ended up in the High Court, although the Court of Appeal eventually allowed the demolition.
SH/LCB