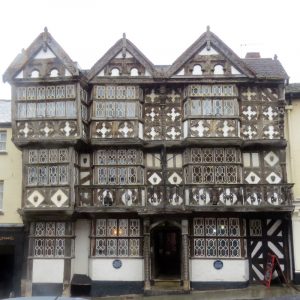 In May 2018, routine water sample taken by Shropshire Council and Public Health England identified another instance of Legionella at The Feathers Hotel in Ludlow. The news came just eight months after a 69 year old woman died after contracting Legionnaires Disease at the hotel in July 2017. Another woman was fortunate to recover after contracting the Legionnaires Disease at the same time.
This leads us to consider whether home owners should be concerned about Legionella in the home, and how responsibilities for tenants' safety can impact on private landlords of rental property.
What is Legionnaires Disease?
Legionnaires Disease is a form of pneumonia caused by the inhalation of the Legionella pneumophila bacterium, that is fatal in around 10% of cases. (The Legionella bacterium is also responsible for Pontiac fever, although the symptoms of fever, headaches and muscle aches are less severe and it does cause pneumonia.)
Legionnaires' Disease isn't contagious, so can't be spread from one person to another.
Legionnaires' Disease is contracted by the inhalation of contaminated water vapour. New evidence suggests that aspiration, rather than inhalation, may be more common than inhalation. Aspiration is caused by secretions in the mouth getting past the protective choking reflex, such that it enters the lungs instead of the esophagus and stomach.
Where can Legionella be found?
Legionella can grow in all man-made hot and cold water systems, whether large or small scale. Droplets of water, for example spray from a shower head, kitchen spray tap, humidifiers and whirlpool spas, can contain the Legionella bacteria. Legionella can lurk in the home as well as larger buildings, such as offices or hotels.
How can I prevent Legionella bacteria growth?
The effective management of water systems can reduce the opportunities for Legionella bacteria to colonise a water system.
How do you know if you have contracted Legionnaires Disease?
Men and people over the age of 50 are the most likely to contract Legionnaires Disease, although it can affect anyone.
Early symptoms can include muscle aches, tiredness, headaches, dry cough and fever, sometimes accompanied by diarrhoea and confusion.
Private landlords and Legionella
In the same way that owners of business premises are responsible for the safety of their tenants and staff, anyone renting out a room in their home or letting out another property is legally responsible for ensuring that their tenant is not exposed to health and safety risk. That responsibility includes identifying and assessing the risk of Legionella bacteria presence and implementing any measures to control the risk.
How can I prevent Legionella?
Legionella requires certain conditions to colonise.
Temperature Instant hot water systems, such as combi-boilers or electric showers, reduce the likelihood of Legionella as no hot water is stored. If you have a system that stores hot water, set the temperature at 60°C or higher. Cold water should be stored at a temperature below 20°C if possible. Where water is stored between 20-45°C there is a reasonable risk that Legionella bacteria will be present.
Water storage There is a very low risk of Legionella colonising where daily water usage turns over the entire system or cold water is drawn direct from the mains supply (rather than a storage tank). Toilets and hand basins are low risk. However, if you have a bathroom or shower that is rarely used, make sure you flush it through every week to keep it free of bacteria. Water systems with dead ends formed by capped pipes are also susceptible.
Ensure debris doesn't enter the system Make sure any water storage tanks have fitted lids to avoid the ingress of debris in which the bacteria can grow. Rust, sludge, scale and organic matter can support bacterial growth.
What should landlords do?
Make sure your tenants know how to avoid Legionella colonisation by warning them not to adjust water temperature settings and advising them to regularly clean and disinfect showerheads.
If your property is left vacant for extended periods, you should drain the system or instigate a regime to flush hot and cold water system outlets once a week to minimise the risk of stagnant water.
While landlords are not legally required to routinely sample their rental property's domestic water systems for Legionella, they should be aware that, if a tenant were to contract the disease, the landlord may be liable for prosecution. The Health and Safety at Work Act 1974 provides for health and safety legislation that applies to landlords, to ensure a duty of care is shown to tenants with regard to their health and safety.
More information on landlords' legal responsibility can be found on the HSE website.
Contact your local Property Surveying RICS Chartered Surveyor in Ludlow for all your commercial or home property surveying services from a local surveying professional.
SH/LCB
© www.PropertySurveying.co.uk