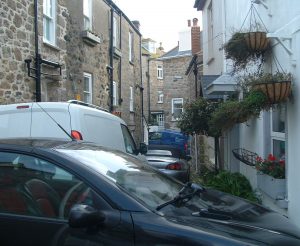 The second home market in Cornwall is growing – despite financial penalties designed to help local people remain in their communities. The 3% stamp duty surcharge introduced in 2016, and an increase in council tax for second homes by some councils, has had no effect according to figures produced by Hamptons International estate agency for The Telegraph.
More than a third of the 20,000 holiday lets in Cornwall are registered as businesses, meaning that no council tax is paid on them. 6,000 holiday lets in Cornwall pay no council tax or business rates, because of a loophole in the law.
Since 2010, the percentage of all properties bought as second homes in Cornwall has increased from 7% to 9%.
Second homes are changing the face of resort towns from strong communities into over-priced ghost towns, driving away families that have lived there for generations*. The additional financial penalties are simply not enough to deter those rich enough to buy a second home in holiday towns like Padstow in Cornwall.
A shocking 67% of properties have been bought as second homes in Padstow and neighbouring PL28 area over the last two years.
Second home buyers accounted for one in ten of all house purchases in Cornwall in 2017.
The Rame Peninsula and St Ives were the next most popular, where houses bought as second homes made up 29% and 24% of purchases respectively.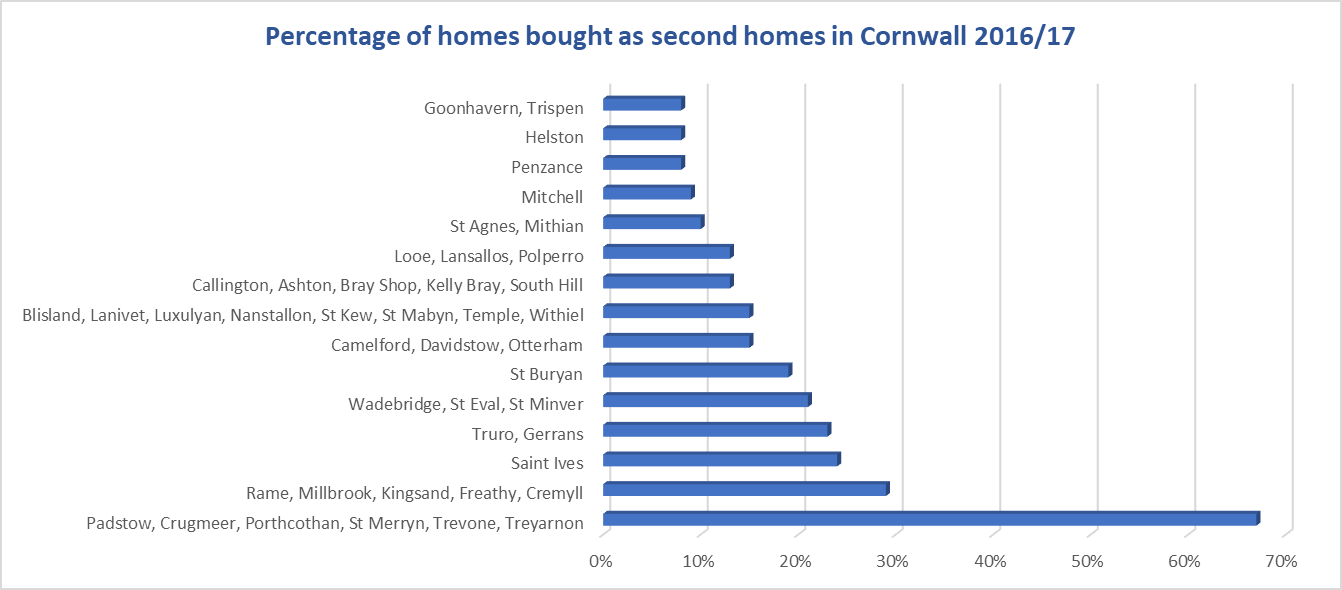 Second home ownership has been largely responsible for the disproportionate escalation of house prices in areas of low wages, making home ownership unsustainable for many local people, particularly the young.
The average price of a home in Cornwall is £377,320 – 24 times the average Cornish wage, of £15,458. In London, the average price of a home is 14.5 times the average wage.
St Ives fought to stop the trend, voting in 2016 to adopt a Neighbourhood Plan that included a ban on new build property being sold as second homes, although there have been warnings that the ban may have a detrimental effect, potentially driving up the prices of older properties.
Others have followed St Ives' lead, including the Rame Peninsula, the parish of St Minver and the village of Mevagissey.
The charity Cornwall Community Foundation helps people struggling with poverty, and has appealed to the conscience of second home owners by asking buyers and Cornish businesses to make regular donations towards community projects. The charity funds causes such as a support centre for the homeless in St Austell.
The scheme asks second home owners to commit to donating one week's rent per annum, or the equivalent if the property is not rented.
One supporter, Ann Higham, who has a second home in Fowey and generously agreed to support the scheme with a £5,000 annual payment, said: "So many second home owners see the beauty of Cornwall without realising that by some criteria it is the poorest county in the UK."
---
* It should be noted that, whilst some local people complain about the difficulty in buying a property in some Cornish towns, it is they or their parents who have sold their own properties to the second home market in the first place.
SH/LCB