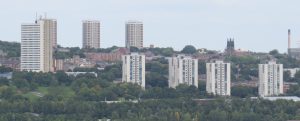 The BBC has revealed that only one in fifty of the UK's social housing tower blocks has a full sprinkler system. Of these, two thirds had only one staircase that could be used to evacuate residents.
The figures were made public on the eve of the Grenfell public inquiry from information obtained from 56 local authorities and housing associations, and the responses relate to around 50% of the UK's estimated 4,000 tower blocks.
Regulations in England dictate that only new-build high rises built since 2007 and over 30 metres high require a sprinkler system, and there is currently no requirement for retrofitting older properties.
In 2009, six people died in the Lakanal House fire, in Camberwell, London, a 14-storey tower block with 98 maisonettes that was built in 1958. The coroner, Judge Frances Kirkham, recommended that fire services visit high rises to learn their layout, residents should receive better fire safety information and that landlords consider fitting sprinkler systems.
In 2010, two firefighters were killed at a fire at Shirley Towers, Southampton. The Southampton coroner, Keith Wiseman, recommended the retrofitting of sprinkler systems, saying that "obvious precautions to prevent the fire occurring were not taken".
Fire chiefs are now calling for sprinklers to be retrofitted to all social housing blocks, after research found that 90% of 2,294 fires were successfully controlled or extinguished where sprinkler systems had been fitted.
Ministers have been widely criticised for not taking action prior to the Grenfell Tower tragedy, and the government has now commissioned an independent review of Buildings Regulations and fire safety. The review will run parallel with the inquiry, assessing the effectiveness of Building Regulations and fire safety in current buildings, and focusing on multi-occupancy residential high rises.
The review focuses on two key points:
"to make recommendations that will ensure we have a sufficiently robust regulatory system for the future; and
to provide further assurance to residents that the complete system is working to ensure the buildings they live in are safe and remain so."
An interim report will be submitted this autumn followed by the final report in spring 2018.
Contact your local Chartered Surveyor for an independent survey when buying property in Southampton, London or elsewhere in England and Wales PropertySurveying.co.uk