Natural slate has long been used as a building material and a slate roof can last a century or two. While many mines have fallen into disuse, a 600-year old Northamptonshire slate works outside the village of Collyweston, one of the country's oldest, has now reopened after a long period of closure.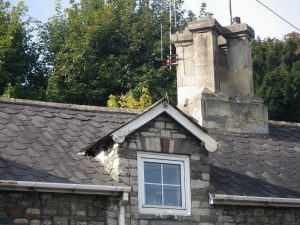 The mine suffered a period of decline in production, when warmer weather made early production methods by frosting difficult. As more modern and cheaper alternative materials became available in the 1970s, production at the mine stopped altogether and since 1980 the site has been used as a builder's and roofer's yard.
The practice of re-dressing slate from less important buildings for use on historic buildings has become difficult, as fewer and fewer sources are available, so permission was granted by East Northampton Council to reopen the Claude N Smith slate mine. It is estimated that the reopened mine could yield approximately 200 tons of slate over the next ten years.
Accumulated rubbish and 100m of rock had to be removed before extraction could start at the mine and a colony of bats has been temporarily rehomed to an unused part of the mine.  The area will be designated as a bat reserve once mining is complete, as part of an existing bat reserve.
The mine's owner, Nigel Smith, is the great grandson of Willie Smith, who worked at the pit.
Collyweston produces a distinctive, high quality, limestone slate that can last for two hundred years. The slate comes from seams twenty feet below ground. It is finished off manually to create individual tiles after the mined blocks are first frozen for eight hours. The traditional method of laying out the blocks in fields and keeping them wet (causing them to split) has been replaced with a more reliable modern freezer technology developed by Sheffield Hallam University and Natural England.
Records show slate from the mine was used as early as 1286 at Cambridge Castle, and extensively on manor houses and farm buildings, on London's Guildhall, and can even be found on a manor house on Long Island, New York.
Clare College, Cambridge hopes to replace existing slate roof tiles with slate from the mine, and Historic England and local conservation officers stipulated the use of Collyweston slate for the roof restoration of King's College Cambridge's Bodley Court, which should be completed in 2018.
For more on the properties of a natural slate roof, see our Article: Moss & Lichens on Roofing Materials