With many people away visiting family and friends over the festive season, things are often hectic and important tasks, such as securing your home properly, are overlooked.   Eighty percent of burglaries occur when a house appears empty for a few days.   With money pressures at this time of year, and many homeowners away, Christmas and New Year is the prime time for your home to be targeted by thieves.   We've compiled a checklist of things to think about before leaving home so you can enjoy the festivities whilst you are away visiting friends and family without worrying that 'unwelcome visitors' might be tempted to break into your home.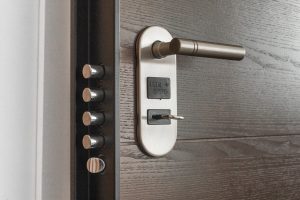 Post piling up is a sure sign that the residents are away. Royal Mail offer a 'Keepsafe' scheme, where they will hold your mail for up to 66 days until you return home.   It takes just a few minutes to apply online and five days to set up.
Alternatively, ask a friend or neighbour to pick up your mail and if possible, make the house appear to be occupied.   If your neighbours don't have their own driveway, and you do, suggest that they might like to park on your driveway whilst you're away.
It's tempting to be organised and pack the car the night before with suitcases and luggage. Unless it is completely out of sight in a locked boot, placing luggage on the back seat or rear ledge of a car is advertising your trip.  If you need to place it in the car the day before, make sure it's somewhere that is not visible.
Leave a small lamp switched on where the light can be seen from the street or outside the property, OR invest in a timer, which can cost as little as £5 online, to ensure lights come on at appropriate times. A TV or radio on a timer is also a good idea as it reinforces the idea that the owners are home.
Ensure laundry isn't left hanging out on the line. If it's still there after several days, this again suggests no one's home.
Leave curtains open. It's tempting to close curtains when you go away so no one can see in, but most curtains aren't closed during the day.  This again suggests you may be away.   HOWEVER, ensure valuable items aren't visible from the outside of the property – move them if necessary.   If you have a good relationship with your neighbour, ask if they might come in and close the curtains for you at night to show activity in the home.
As recommended above, keep valuables out of sight. This sounds obvious but you may be surprised what some people consider as 'valuable'.   If in any doubt, put it away.   Don't forget to lock smaller valuables, such as jewellery, away in a safe if you have one – and make sure keys aren't left in sight!
Any electrical item not on a timer, or that doesn't need to be used whilst you are away, should be unplugged to protect your home from a power surge.
Invest in a security system where practicable…or one that looks like a security system. Evidence suggests that just the sight of a security system box on the outside of your property is enough to deter thieves.
Put your tools away. Ladders left out, for example, will only provide easy access to thieves and other tools will make their lives easier in breaking into your home.
Without making it obvious ensure that the gates and doors you have are secured. Always make it as hard as possible for burglars to break in.
Never leave a key under a plant pot – or anywhere outside. Thieves are aware that people do this in case they lock themselves out, and will always take time to look around for a key.
Provide a trusted neighbour or friend with a spare key. Even if they're not picking up the post or making the house look 'lived in' whilst you're away, knowing they have a key will give you peace of mind that if something happens there is someone on hand to help .  For instance, the security alarm may go off; a trusted person with a spare key will be able to turn it off for you – but remember to give them the code.
And try not to mention that you're going away on social media. It's easy to think we're just telling our 'friends' when in fact we may be advertising it to others, including thieves.
Check your buildings and contents insurance is valid and up to date. Although you may think you're fully covered, there are some circumstances where your household insurance is void if you are away for over a certain number of days, or if you have someone else in your home looking after it whilst you are away.
Have one last walk around your home immediately before you leave. Are all the doors locked and windows secured? Are all valuable items out of sight? Do the timers all work?
Finally, enjoy a relaxing and trouble-free time away!
DW (Dec 2016)