Two recent cutbacks have adversely affected property owners in different parts of the United Kingdom this past month, which have brought to light the madness of some decisions.
In Lancashire, in the small village of Entwistle, a decision to scrap house-to-house bin collections has been met with outrage by some residents.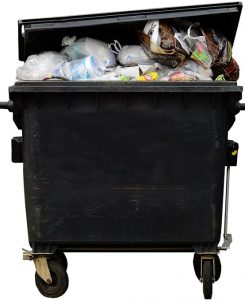 Labour run Blackburn with Darwin Council insists that the change is required in order to save some £65,000 a year in collection costs. It also claims that some un-made and adopted roads, as well as country lanes, are in too poor condition for their refuse disposal lorries.
Consequently, some residents no longer receive regular, fortnightly rubbish collections and are angry that they now have to wheel their bins considerable distance to collection points.
As well as Entwistle, people living in Edgworth, Bellmont, Darwin, Pickup Bank, Hoddles-den, Tockholes and Belthorn have also had their regular collections stopped.
An 83 year resident, grandmother of five and with a husband suffering from dementia, now has to drag her wheely-bin 160 yards to the collection point. As a result, she has suffered physical strain and injury to her arm as she and her husband now have to empty the contents of their large and heavy wheely-bins themselves into large scale commercial bins. She is obviously very upset.
Yet another has to transport their rubbish over half a mile away to where the council have installed six industrial-sized bins for residents to use.
To make matters worse, locals say that the bins put out by the Council for the five hundred or so residents to dispose of their own domestic rubbish have been placed in passing spaces along narrow lanes, as well as in the village car park. As a result, they say access to the village is adversely affected as these passing spaces cannot now be used due to placement of the bins. They are also 'an eyesore'. Residents report that when people have complained to the Council, the response has been "It is happening. Deal with it!"
One resident, who is 86 years of age, has not had their rubbish collected since September. They are unable to get to the bins down the road despite the fact that they are supposed to have assisted help. A spokesman for the Council has said that collecting from un-adopted lanes was extremely costly and the condition of some of the roads have damaged refuse vehicles, however, help is available for people who are finding it difficult.
It is hoped that Blackburn and Darwin Council rethinks this approach or ensures it does everything it can to reduce the burden on the elderly and physically vulnerable affected by this decision.
Elsewhere in the UK, a private sector company is also making life very difficult for residents. A number of homes in Severn View, Pontypool, South Wales no longer receive mail delivered to their homes. Royal Mail is concerned that its postal staff must walk up and down a small, sloped grass verge, which can become muddy in wet weather. Royal Mail have previously provided door-to-door delivery services to the ten homes or so but now residents must walk up the hill themselves to collect their mail from a local post office.
Whilst Royal Mail may be exercising a duty of care towards their staff, it has no such qualms for the people affected by this decision. Whatever the weather, the residents, including a woman of 91 years who needs a stick to assist her to move around, have to go daily to the post office to go to collect their post.
One local resident pointed out that Royal Mail deliver to some very remote places, including isolated farmhouses where there aren't even pavements. For a post master or mistress to say the grass verge is too slippery for the 'posties' seems somewhat bizarre. The residents believe 'its Health and Safety gone mad'.
Prior to the residents being able to collect their mail from the nearby post office, they were told that they would have to travel two miles to the local sorting office.
A Royal Mail spokesman has said the policy would be reassessed. They apologised to customers in the Severn View area of Pontypool for any inconvenience as a result of disruption to their mail service. "We will conduct a further Health and Safety assessment of the area as soon as possible and notify customers of the outcome."
Let us hope that common sense also prevails soon for the people of Severn View, Pontypool.
© www.propertysurveying.co.uk
LCB
3.11.16