With Halloween creeping up (literally) on us at the end of the month, many people across the UK live in fear and dread of potential vandalism against their homes.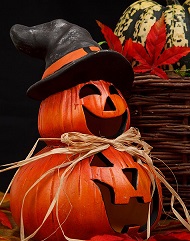 The traditionally North American phenomenon of 'Trick or Treat' has crossed the pond and increased in popularity in the UK, particularly over the past decade.  Whilst Halloween is intended to be about family-friendly, good-natured, harmless fun, it can be the catalyst for mischief and anti-social behaviours.  Research has also shown that there is a sharp rise in petty crimes and threatening behaviours during this period, so beware.
Current financial pressures and the number of families on low incomes means that many homes are not insured.  According to one large insurer, the collective damage done during Halloween and Bonfire nights through anti-social behaviour is somewhere in the region of £1.5 billion, which an average of almost £300 per household in repair costs.
Last year, 21 percent of householders in the UK reported damage to their homes as a result of "tricks" such as raw egg throwing, or, alarmingly, rubbish bins being set alight.
People breaking fences or stealing gates, plants and other outside equipment or fittings accounted for 6 per cent of reported damage, whilst damage from fireworks and sparklers caused 3 percent of homeowner's claims.
Here's a few tips to help minimise the opportunities for mischievous 'Tricksters' to reek havoc;
Check – and renew if necessary –  your household insurance;
Remove temptation; for instance, take in rubbish bins, or hide them out of sight, store garden furniture and equipment, take potted plants inside overnight;
If you have security lights, put them on for the evenings of Halloween and Bonfire night to act as a deterrent;
And finally, it is recommended you have lots and lots of sweeties available!
Happy (and safe) Halloween.
© www.propertysurveying.co.uk      VY