Over eighty abandoned urban spaces throughout the country have plans to be completely transformed into green areas that are available for everyone to use. The Communities Secretary, Greg Clark has announced that this is all being paid for by a share of a dedicated fund of £1.5 million.
The plan is to draw more people outside. Mainly focusing on urban areas, the green spaces will give residents (especially those without a garden) an opportunity to meet with friends, grow food and other plants, and provide them with a safe space for their children to play.
Now 87 community groups, from Newcastle in Tyne and Wear to Penryn in Cornwall, will have the money to create their own 'dream' pocket parks, developing small parcels of land, sometimes as small as the size of a tennis court.
Clark has said: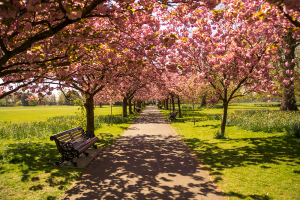 "We believe that these green parks and spaces will bring life to our busy towns and cities, providing our communities with the opportunity to gather together, get some exercise, and safely play. 
"The funding that we have received will help us to deliver the government's promise to provide pocket parks across the country."
The towns and cities with plans and designs that illustrated the strongest community focus were the ones that were chosen for this scheme. They had the most creative ideas to transform these misused urban spaces into the breath of fresh air that is desperately needed in these communities, and can be enjoyed in years to come.
The winning bids include:
Permarin Community Group
This community group's plans include turning an unused area of tarmac in Penryn into a traditional Cornish garden with plenty of space for children to play safely outdoors.
'Action for the Disability' Community Group – The One Voice
This group in Wolverhampton plan to convert an old tipping zone, which is around 30 years old, into a natural wildlife area. The plan is to work with local residents and people with mental health issues or physical disabilities to construct the pocket park.
The Monkey Park – Community Interest Company
The Monkey Park, in Chesterfield, are planning to use their funding to build a walkway beside the river. This will allow people to walk by the Holme Brook and enjoy the naturally green space flowing through the heart of the community.
The Friends of The Chuckery Village Green
This community in Walsall, want to plants edible herbs, fruit and vegetable gardens to make the most of the cherry trees that grow on their neglected plot. The plan is to use these fruits and vegetables to make pies and jams.
Cherry Orchard Gardening Services
A community group in Staffordshire, Cherry Orchard Gardening Services, are choosing to use their funding to create a pocket 'Park-our'. This will be a space for local teenagers to practice parkour, an increasingly popular urban sport, in an environment that is safe.
Marcus Jones, the Communities Minister, has said:
"In built up, urban towns and cities, parks are great gateways to the great outdoors, they provide a small but direct contact with nature. This funding will bring that little bit of nature to urbanised and neglected areas in over eighty towns and cities across England.
"The community groups that have been successful and awarded funding, have all come up with their own inventive ideas to improve their own quality of life within their community. We are so excited to see what the end results will be."
The Groundwork Chief Executive, Graham Duxbury, has also explained:
"Carrying out groundwork each year, brings life to a town, but also helps thousands of people, of all ages, to work together to protect, preserve and improve green spaces within the community. Bringing everybody a little bit closer together."
It is encouraging that the government is finally starting to support communities, and that councils are doing more for their local areas. For many towns, improving an area at the end of the road is the first step in getting the local residents much more involved in how their neighbourhood functions.
*Back to March 2016 Newsletter*
©  www.propertysurveying.co.uk     PE