The town of Ludlow, Shropshire is famed for its gourmet restaurants. Food festivals, independent retailers and a microbrewery of some renown characterise the place, which was once able to boast three Michelin-starred dining locations. This reputation faces a threat however, coming in the form of a Pizza Express opening up in the heart of Castle Square.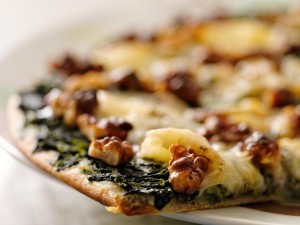 At present the town has one Michelin-starred restaurant as well as eight that have been awarded a coveted AA Rosette. Along with these, the 10,000-resident town boasts an 11th Century castle, galleries, wine bars and a microbrewery.
Residents and councillors are certain that the introduction of the national pizza chain, which has around 400 outlets across the UK, will spoil such a historic and largely independent high street. One resident explains:
"How can a town that hosts two amazing food festivals and the birthplace of so many independent retailers and caterers and a stunning microbrewery even contemplate welcoming a faceless restaurant giant?" 
Another says:
"Ludlow is too posh for food chains. It's a shame they can't just ban them and ensure the town retains its incredible character" 
Tish Dockerty, the Secretary of Ludlow Chamber of Commerce, who points out that the town has recently been voted 'one of the top places to live', looks on the bright side:
"It could be worse – it could be McDonalds or Pizza Hut" 
Finally, Councillor Andy Boddington says:
"If we get more national brands moving in, Ludlow will become nothing other than a clone shopping town with historic buildings attached". 
Unfortunately, despite the local opposition, there are no planning powers to block the application.
A spokesman for Pizza Express said:
"Castle Square is an exceptionally picturesque area and we're very excited about creating a beautiful design to complement the building and its immediate surroundings" 
It might not be posh, therefore, but at least it will be pretty.
BT  22.04.15