In June 2014, Carmarthenshire Council gave planning consent to an application to erect a 147ft (45m) wind turbine at Mwche farm in Llansteffan, across the Taf Estuary from Laugharne. Objections were received from locals and the National Trust, and a judicial review was ordered. This is not unusual – it happens up and down the country all the time.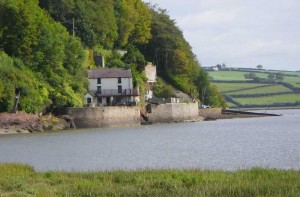 What sets this one apart is that Laugharne is the site of Dylan Thomas's Boathouse, where he wrote Under Milk Wood and Do Not Go Gentle Into That Good Night. The view across the estuary and Gower is what inspired much of his work, and the location attracts visitors from all over the world to experience the peace and tranquillity of this little part of South Wales.
The first poem he wrote in the Boathouse, called Over Sir John's Hill, is descriptive of the view and the birds of prey he saw. Poem on His Birthday is similarly evocative of the local wildlife and scenery.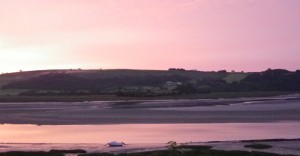 It is 100 years ago that Dylan Thomas was born, and in his centenary year Thomas's granddaughter, Hannah Ellis, led the campaign to ban the turbine. Thomas is buried in the churchyard in Laugharne, and her mother's ashes are scattered there. She has placed a bench there and sits there for her peaceful time. She said it was 'upsetting' to think of a wind turbine in the landscape, and that the decision was 'absurd'.
Huw Davie, of the Dylan Thomas Society of Great Britain, said that the erection of the wind turbine would 'desecrate' the celebrated view.
The council were told that the turbine would be 2km from the Boathouse, and at 147ft (45m) high, wouldn't be visible from Laugharne because of woodland. Also, they intended to paint the turbine 'off-white' to 'blend in with the sky'. A visit was made to the turbine site, but not to Laugharne.
Following a hearing at the High Court Cardiff in January, the judge was told that the planning committee had ignored advice from the council's landscape officer that it would be a "discordant element and an alien intrusion within an historic landscape of exceptional sensitivity". Judge Andrew Gilbart QC revoked the wind-turbine planning permission, saying that it was 'impossible' to believe that the turbine wouldn't be seen.
Chris Delaney, Laugharne Community Council said the town was 'delighted with the ruling'. The Tearoom and Gallery can now continue to welcome visitors to the unspoilt countryside which was so beloved of South Wales' famous son.
PP                                                        www.PropertySurveying.co.uk                                                03/04/15