Fancy an investment which will make you money and let you dip your feet in the water?  Three historic and some say iconic piers are for sale through commercial agents Bilfinger GVA.
Two historic piers at Blackpool and the elegant pier at Llandudno in North Wales have been put on the market on behalf of Cuerden Leisure, at an asking price for the three unique investments of £12.6 million pounds.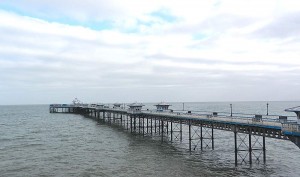 The piers were constructed in the Victorian Period using cast iron piles, steel frames and timber decking. They provide a popular tourist attraction to both towns and benefit from established income by the letting of concessions, amusement arcades, rides and food and drink outlets.
Known to millions, these piers are part of Britain's heritage as well as a business opportunity to buy a property investment with a twist.  With close to 100 piers built mainly in the Victorian period, only 58 are now in existence; although some of those require rescuing as they are in a dilapidated state.
South Pier 1893 and the North Pier at Blackpool 1863 are well known landmarks for millions who have visited Blackpool over the decades and provide fairground style rides and excellent vantage points to view the famous Blackpool Pleasure Beach and sands.
The present pier at Llandudno opened in 1877 and is a popular attraction almost all year round. The pier was originally 1,234ft long, although now this is reputed to be over 2,300ft long with extensions and improvements.
It is in stark contrast to the dilapidated pier nearby in Colwyn Bay, which is in urgent need of rescuing.
The investments have an income of some £1.6 million.  Full information is available through the agents.
LCB / SJ                                 www.PropertySurveying.co.uk                                  01.04.15