Housing campaign group Generation Rent has suggested that the government could save up to £120 million over five years by simply moving the Houses of Parliament to the wonderful city of Hull.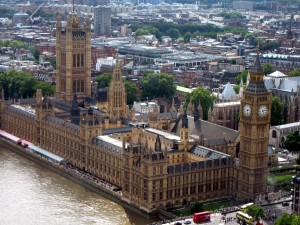 The remaining world heritage site would then be converted into 364 affordable flats, with 1 bed flats being available for as little as £258 per week, equating to £1,118 per month. The fantasy scheme will also include transforming the ground floor debating chambers into a swimming pool and library.
Architect, Jay Morton, who has drawn the ambitious plans says:
"This redevelopment would provide a unique opportunity to renovate the existing fabric of the building and provide much needed accommodation for those who live and work in the city, while re-injecting a community back into the heart of the borough."

Generation Rent, whose objective is to raise awareness about the lack of social housing, suggests moving MP's to Hull – the area with the cheapest rent levels in England. It also points out that 335 MPs rent second homes and claim expenses, that in 2013, set the taxpayer back £5.21 million.
The plans go on to suggest, that relocating Members of Parliament to a cheaper part of the country would result in annual savings of £20 million due to reduced employment costs. It will also create 5,000 well needed jobs in the North Eastern City.
Director of Generation Rent, Alex Hilton says:
"Renters are being crushed by high rents, poor conditions and almost no security of tenure…With their generous rent allowances from the taxpayer, MPs are cocooned from the housing crisis so they're largely indifferent to the plight of renters" 
He goes on to state:
"One way our politicians could bear their share of austerity is if we relocated Parliament to the least expensive part of the country. We hope our proposal gives MPs a sense of humility and some urgency to ending the housing crisis." 
The stunt has been met with very mixed views, some even upset that it is likely never to happen. Dan Bryant says:
"The idea of moving Parliament to Hull is just brilliant on so many levels." 
He was not alone, Alan Smith, a member of Otley and Yeadon Labour Party says:
"I'd definitely vote for parliament moving to Hull. Referendum?"
Unfortunately for Dan and Alan, it is unlikely ever to happen. The residents of Hull will no doubt be delighted that they are likely to be saved from enduring the presence of our glorious leaders.
03.03.15                                     www.propertysurveying.co.uk                                           BT