You would be forgiven for thinking that dilapidated factories, unused mining headstocks and abandoned industrial sized chimneys would be something of an eyesore. However, for many locals, they serve as a constant reminder of our industrial past and they would do almost anything to prevent their demolition.
The headstocks of the former Clipstone Colliery in Nottinghamshire, that stand an impressive 200ft tall, are just one of many unused structures across the country to have received overwhelming public support when threatened with demolition.
A planning application was submitted in 2003 with the aim of demolishing the grade II listed building, but this was met with a 2,500 signature strong petition and 12 years later it has still not been fully resolved.
Denise Barraclough, the head of the Save Cliptstone Colliery Headstocks campaign explains:
"I don't think they're ugly…They are magnificent iconic structures and there's such a lot of history attached to them…If you demolish the headstocks you lose the village's identity and purpose."
Campaigners have even suggested that the headstocks should form the centrepiece of an East Midlands "Eden Project".
In 2008, the Tinsley cooling towers in Sheffield, which had stood proudly beside the M1 for 28 years after Blackburn Meadows power station closed, were torn down.
The demolition was the subject of a petition which obtained signatures of over 4,000 people, however, the owners E.ON said that the towers no longer served a purpose and they had to go.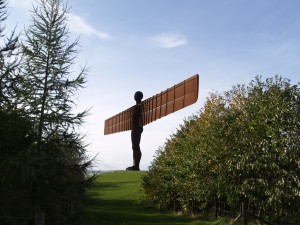 The creator of the Angel of the North, Anthony Gormley, said at the time that to knock them down would be "cultural vandalism". 
Other iconic structures, which sadly for some were not saved from demolition were the three towers at Didcot A power station. Although previously awarded the title of Britain's third ugliest building, many locals were upset to see them go.
Kelly Green, who grew up in the town, has had an image of the towers tattooed onto her shin as a permanent reminder of the prominent landmark that once was. She explains:
"It still reminds me of my childhood and where I come from."  
Editor of Building Design Magazine, Thomas Lane suggests reasons as to why these ugly buildings – as they are often described – are so well loved.
"People become familiar with these structures. They become part of the landscape as a consequence. Local people become attached to them for those reasons."
Despite many iconic structures being demolished, a number remain as popular attractions and prominent landmarks. Bankside power station, which is now the Tate Modern, and Battersea, which is currently undergoing major redevelopment are just two.
Perhaps, it would be better for local governments and residents to encourage developers and owners to reinvigorate these much loved structures instead of demolishing and starting over from scratch.
BT                                                 www.propertysurveying.co.uk                                        10.03.15