It has been confirmed that Britain's construction output did not expand at all in July, marking the end of a period of rapid house building expansion. The month before showed growth of 1.2%, but the poor showing in July – fueled primarily by a 4.1% slump in maintenance and repair activity – has brought the annual figure to an eight-month low of 2.6%.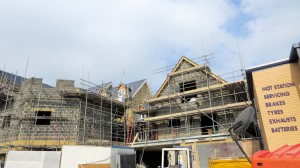 Market economists remain confident, however, due to the demonstrably better performance of order levels during the same month. A rise of 3.8% in orders in the second quarter of the year indicates good things for the future and, further, experts believe that the poor construction figures may still be subject to an upward revision.
Chris Williamson, chief economist at Markit, is quoted as having said:
"Signals from survey and order book data suggest the construction industry has fared better than the official output data would have us believe over the summer.
"Upward revisions to the output data are possible. This would mean GDP could get revised up, painting a more buoyant picture of the economy than previously thought and adding to the argument for interest rates to rise."
Fortunately, there was little market reaction to the poor showing – with investors at the time fixated on the impact Scottish independence may have on investments and their value.
That same event may have influenced the figures directly, with businesses unwilling to commit to investment in maintenance and repair works with the uncertainty of the Scottish question looming so close.
In addition, the school holidays are often a time for low maintenance – with the weather typically nonthreatening and families at home more often and not inclined to introduce the disruption of builders and scaffolding.
The statistics for October, following the decision against Scottish independence, will perhaps be the most telling as regards whether or not the Autumn – and therefore the year – will have achieved a strong consolidated growth level. It may well be that businesses, armed with the certainty of Scottish unity, will unlock the funds they had been preserving and invest once again.
LCB / SRJ                                                                                                                                 16.09.14