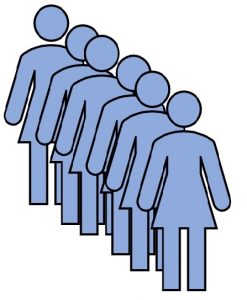 A recent legal case has highlighted the practices of thousands of letting agents and landlords that discriminate against tenants, in particular women.
The case, brought to the county court by single mother Rosie Keogh, and supported by Shelter, won her compensation for sex discrimination when a lettings agency refused her application for tenancy on the grounds that she claimed benefits. Rosie had an excellent track record, having lived in one property for eleven years and always paying her rent in full.
In 2017, a Shelter survey discovered that 43% of private landlords had enforced a blanket ban on letting to housing benefit claimants, with a further 18% preferring not to let to them.
Statistically, housing benefit claimants are most likely to be single women. According to Department of Work and Pensions data, 60% of adults on housing benefit are women, 95% of whom are single parents.
The practice of treating women differently enabled Rosie to successfully argue that she had suffered discrimination on the grounds of her sex, and the case was settled out of court with a compensation award of £2,000.
While not setting a legally binding precedent, the case suggests that those lettings agents and private landlords who automatically reject housing benefit claimants could well be flouting equality laws as a result of indirect sexual discrimination.
The case has brought responses from others in similar situations. Families reported situations where they had had to move to different towns and council areas, particularly from more affluent areas, due to a dearth of private landlords and letting agents willing to take housing benefit tenants combined with a lack of available local council properties.
One woman compared the current practice of stipulating 'no housing benefit' or 'no children' to the London of the 1950s, when it wasn't unheard of for landlords to stipulate 'no blacks or Irish'.
Isn't it time landlords were required by law to update their views? 'No DSS' is as obsolete as the message behind it – the Department of Social Security was replaced by the Department for Work and Pensions in 2001.
—–
One of our editing Chartered Surveyors comments as follows:
The courts in this case have hopelessly misunderstood the market.
Private sector letting agents and private landlords do not like people on benefits letting assured short-hold tenancy, due to the higher risk of not receiving their rent and the higher risk of receiving damage to the property and the subsequent costs associated with that.
Whilst in any individual case this is clearly not necessarily true, as a reflection of the market this is something into which Shelter, the Courts and the government should look.
When rent was paid by councils directly to landlords, more private landlords were prepared to let to persons on benefits.
The landlord, whilst not guaranteed always to get their property back in a perfect condition, at least had a 'blue chip' council income stream from their property income.
If rental was paid by the housing benefit office direct to the landlords, this would encourage more private sector landlords to rent to people on housing benefits.
The decisions taken were almost certainly not based on sex or inequality, but on financial merit and risk management.
SH/LCB